Trucking Accident Lawyer
Los Angeles, San Diego, Orange County, California
Contrary to public perception that semi-truck drivers are unsophisticated vocation, trucking accident attorneys know that modern commercial trucks are rigged with high tech electronics. The electronics are used to monitor the operator and operation of the commercial trucks. The electronics are vital to show that the commercial truck drivers caused an accident that resulted in serious injury to you or your love one. After a commercial truck accident, it is critical to obtain data from the truck to avoid the trucking company bad faith tactic of stating that the data was lost, destroyed, or misplaced.  As earliest as possible, obtain data from the following electronic devices:
Electronic Control Modules (ECM). The ECM is a computer that monitors and records data on speed, braking, brake system, engines, and brake system.
Video. Most commercial trucks have video footage recorded by records made by DriveCam, Smart Drive, and Dashcam. The video footage will show what the truck driver would see in front of the truck, e.g., traffic conditions, weather conditions, visibility, speed, and road condition.


Event Data Recorders (EDRs). Similar to an airplane's BlackBox, the EDR is part of the ECM, which records steering, seat belt, braking, driver's position, speed, throttle, brake application, ABS activation, tire pressure, cruise control, crash pulse, and change in velocity.
Other Data. Satellite Positions System including GPS to determine the route driven. Emails concerning the incident. Crash report. Fuel receipts. Driving log. Rest break log. Cell phone record. Text messages.
Learn More:
What is overweight for a 18 wheeler?

The maximum weight a semi truck may legally pull is determined by the size of the tractor trailer truck. Single axle semi trucks may carry up to 20,000 pounds and two-axle commercial trucks may transport up to 34,000 pounds. A 18 wheeler carrying excessive wight is dangerous. As a result, the semi truck's weight in your truck accident is critical to the investigation. Under federal trucking regulations, the maximum weight for a commercial truck are as follows:
Single Axle: 20,000 pounds
Tandem Axle: 34,000 pounds
Gross Vehicle Weight: 80,000 pounds
Commercial Truck Driver Drug Use
All commercial truck driver must be tested for drug use. They must be well trained, rested, and alcohol free, and drug free. Nevertheless, 1 in 7 semi truck driver applicant for trucking jobs do not pass a drug test, according to the National Transportation Institute. Your law firm will need to secure the drug testing report for the driver who caused the trucking accident.

"The trucking industry has no greater safety issue, than to aggressively address illegal drug use among commercial truck drivers," contends the Trucking Alliance, in testimony to Congress. The Alliance for Driver Safety & Security, also known as the Trucking Alliance, is an industry-based safety coalition of freight and logistics companies and other business partners.

In a congressional hearing on "The State of Trucking in America," held by the U.S. House Committee on Transportation and Infrastructure's Sub-Committee on Highways and Transit, the Trucking Alliance shared a study that urinalysis testing and hair-testing results for pre-employment testing of more than 150,000 truck drivers at 15 trucking companies. Drug testing for commercial drivers currently include urine testing for commonly abused drugs such as methamphetamine to stay awake longer hours. Additionally, other intoxicants were found including PCP, marijuana, cocaine were found in truck drivers drug use.
Why Should You Hire a 18 Wheeler Accident Lawyer?
When hit by a 18  wheeler truck, many people often have no idea what to do. This semi truck accident law firm and its truck accident attorneys have believe this guideline is important:

Preserve certain evidence after you or someone close to you meets such an unfortunate semi truck collision. This would include evidence relating to the scene of the semi truck accident, such as damage to the vehicles, debris and skid marks on the road, and computer data from the big rig. Then find the best trucking accident law firm and attorney to help with your truck collision case.

Our 18 wheeler accident attorneys and law firm maintain a quick response team for appropriate action following a serious injury or wrongful death in a semi truck accident. Putting our semi tractor trailer team to work on your case early will help in combating the insurance carriers and the trucking company. This is more important because many trucking companies maintain their own quick response teams, including attorneys and law firms, which they dispatch to the crash site within hours of an incident. In some commercial truck accident cases, we found that semi truck defense attorneys were already at truck accident scene while the law enforcement were conducting the preliminary investigation.

It is critical to obtain critical evidence in trucking accident such as measurements and preserving the semi truck involved in the crash for inspection. The earlier you contact an 18-wheeler accident lawyer the better he or she will be able to fight to get your justice. The law firm and attorney will gather all the evidence to prove your case in court.

In cases of serious injury or wrongful death in the semi truck accident, the investigating officers will usually examine the scene themselves thoroughly. This would include taking of measurements and taking of photographs for documentation purposes. In semi truck accidents involving minor injuries, the attorney will do a detailed scene analysis. The law firm will retain experts in mechanics and bio-mechanics to prove your injuries was caused by the commercial truck collision.

You or a trucking accident lawyer must take photographs  at the scene. Focus on the vehicles – especially the tractor trailer – in their final resting positions and any skid marks. Also the semi truck wreck debris indicating the direction of the vehicles before and after the tractor trailer collision. An attorney at the commercial truck collision scene is important to identify all aspect of the crash.

The defense will most probably hire an accident reconstruction expert who would attempt to shift the blame onto the victims or other third parties in his bid to save the driver and the trucking company. Your attorney efforts to preserving the scene and documenting it by photographs can greatly help in combating this defense technique.

Preserving your vehicle that the 18 wheeler wrecked is important to help analyze how the truck accident occurred. You should always talk with an trucking accident attorney before your vehicle is repaired. This is important to to thwart any bid by the semi truck accident defense attorney defending to prove that your vehicle had a defect that contributed to the truck collision. Your attorney will have semi truck experts to help with the investigation.
Early Investigation by a Trucking Accident Lawyer is a Must
We cannot overstate the importance of an early investigation by an semi truck accident lawyer or law firm. The vehicles collision scene, the condition of the vehicles involved, investigators' findings and compliance with the federal regulations all should be investigated early after collision with a truck. You will need a 18 wheeler attorney who has great success record in fighting 18 wheeler accidents.
Don't hire an Inexperienced Car Wreck Lawyer for Semi Truck Accident

Trucking companies carry insurance policies that protect them against claims for personal injury or wrongful death. These policies often carry seven-figure amounts to cover liability in semi trucking accident. The stakes are thus substantial for the insurance carrier who would fight harder to pay less on the claims. It is therefore very important that truck accident lawyer or law firm you choose has  experience in such litigation. You should not go for an car accident attorney who would be learning on the job in your case.

Semi truck truck accident attorney Brad Nakase has represented parties in cases involving the state of California's CALTRAN, highway contractors, developers, etc.

The sooner you hire an semi truck collision attorney the better for your case. But before you sign the paperwork, always thoroughly probe the law firm you are hiring to handle your truck wreck case.
Compensation Available to Truck Accident Victims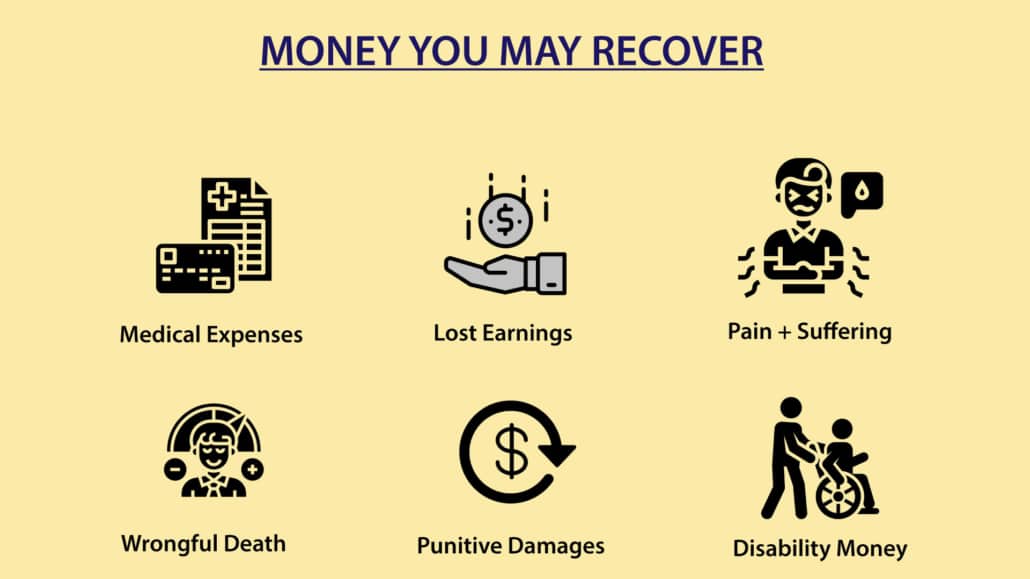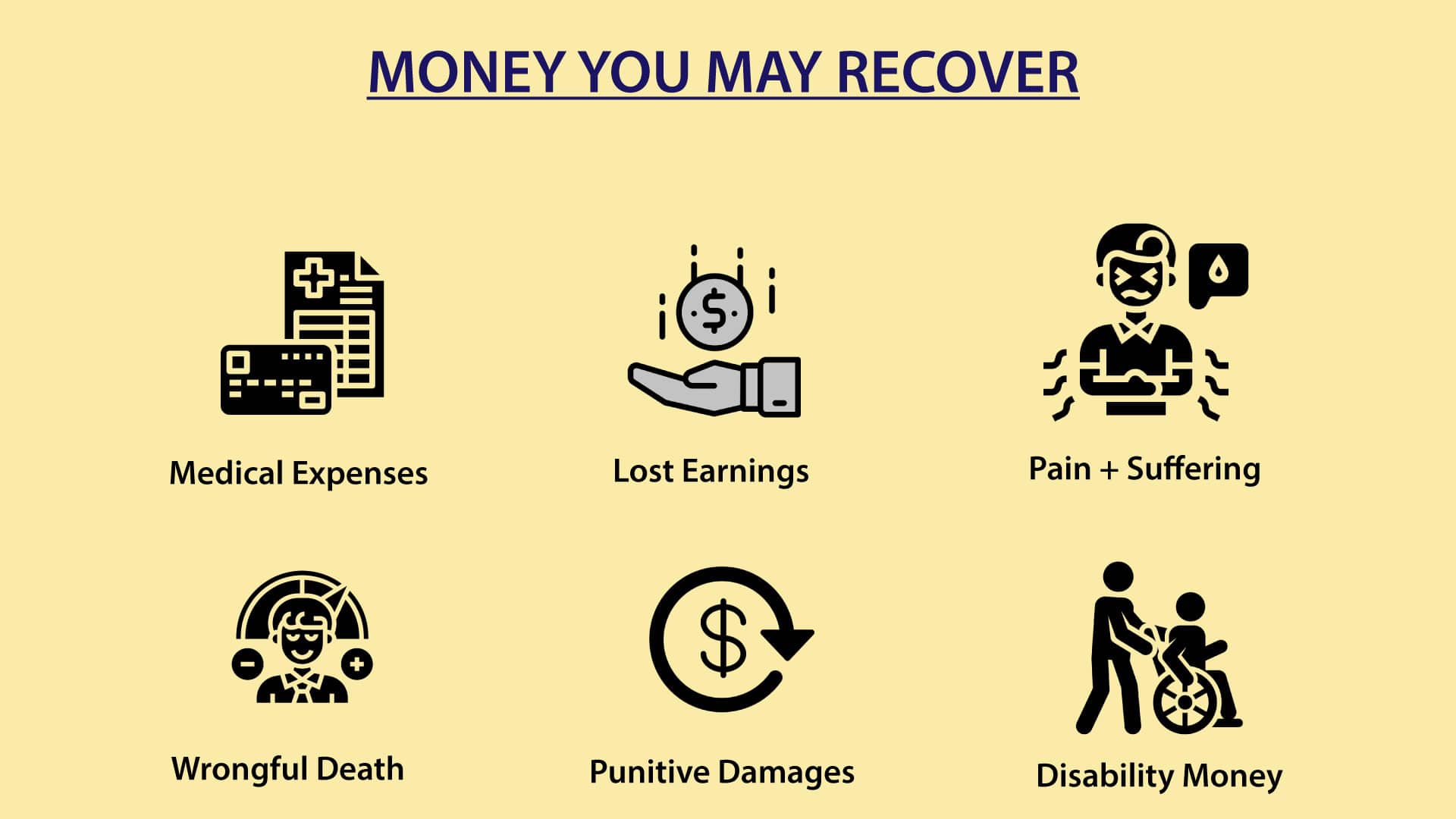 Legal damages for victims of a commercial truck crash can include the following:
Reasonable/necessary medical expenses (both past and future)
Physical impairment
Loss of earning capacity (both past and future)
Mental anguish and physical pain (both past and future)
Exemplary or punitive damages (in appropriate cases)
Wrongful death and survival damages
Free Consultation with Top-Rated Semi Truck Lawyer

Our law firm and attorneys accept only a limited number of cases in order to ensure the best representation for our clients. We have the reputation, skill, and experience needed to obtain the maximum compensation for your injury or loss.
Since 2005, our attorney, Brad Nakase, have helped families in San Diego County and across California after truck crash cases involving serious injury or wrongful death.
Many of our incredible results are confidential by the demand of the trucking company to prevent others from knowing how much they paid to our clients.
18 Wheeler, Semi Truck, and Federal Motor Carrier Safety Regulations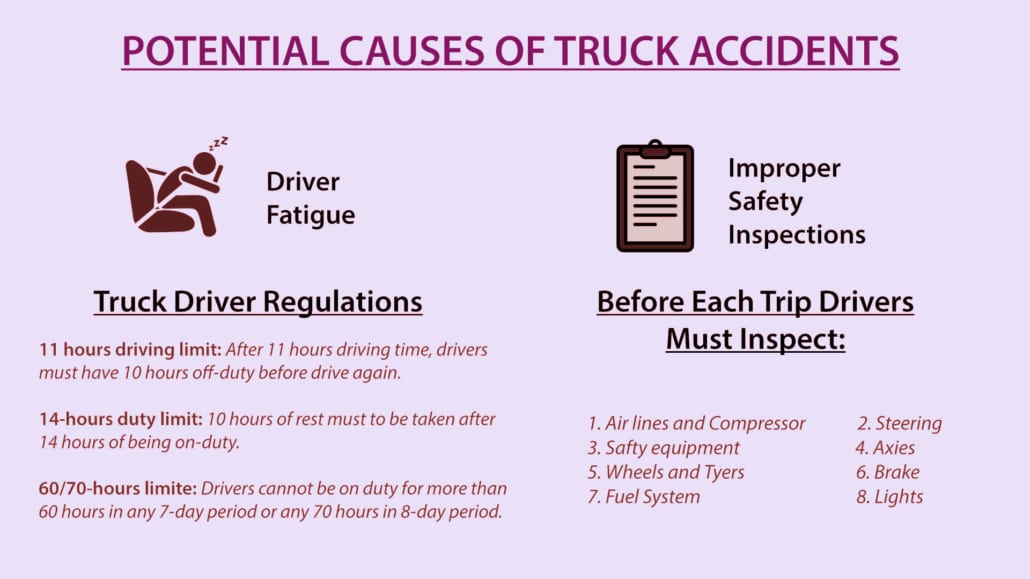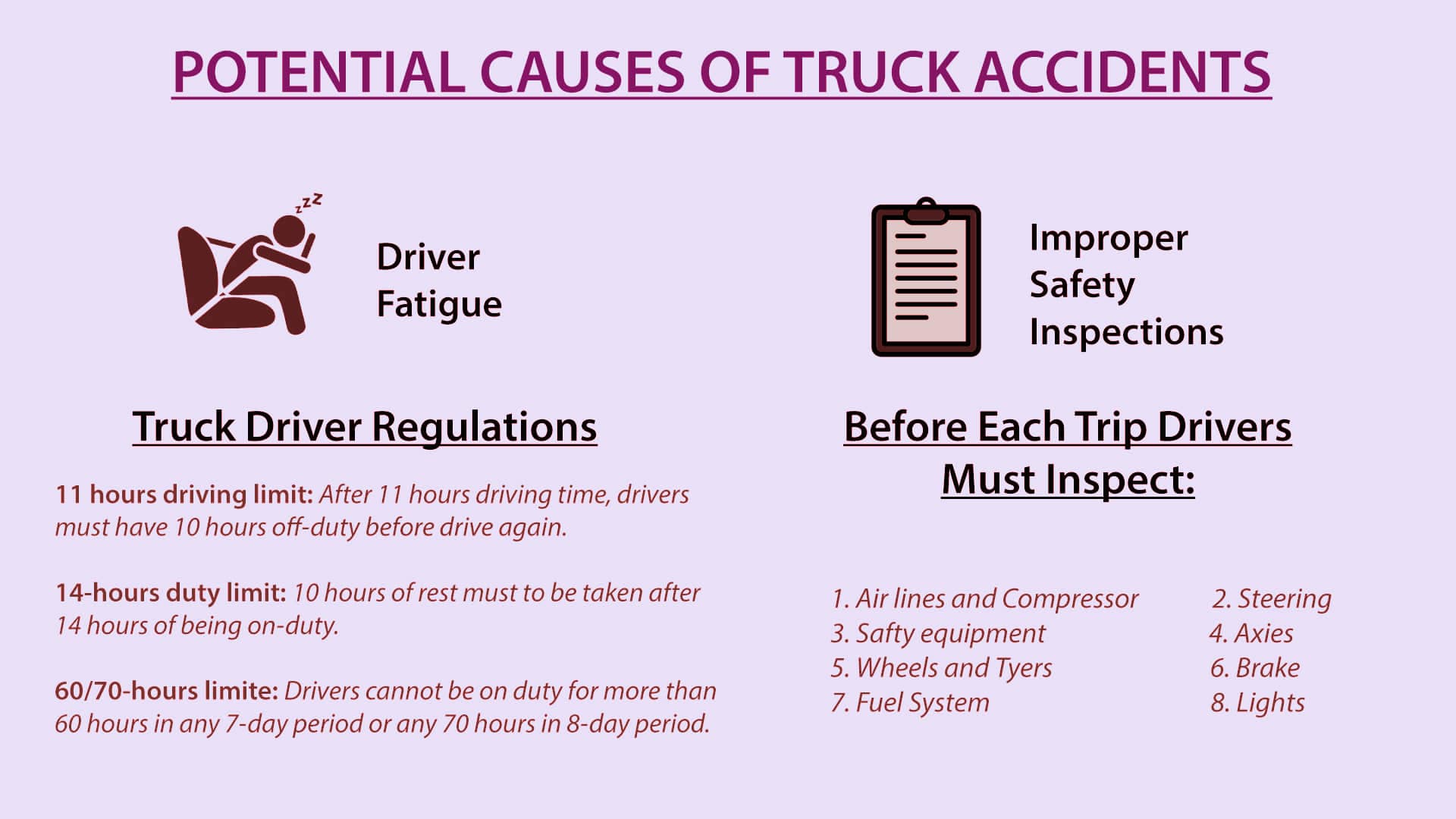 The two main US federal agencies that regulate this semi trucks are the U.S. Department of Transportation (DOT) and the Federal Motor Carrier Safety Administration (FMCSA). The federal trucking regulations are stated in Title 49 of the Code of Federal Regulations. In California, the government agency CALTRANS is responsible for the state's roads and highways which including regulating commercial trucks.

Both the drivers and the truck companies are bound to follow the safety laws given in the Federal Motor Carrier Safety Regulations. One of the rules limits the period of time a driver can be behind the wheel or on the clock. The hours of service regulations specify the time a truck driver can actually be on the driving seat.
14-hour duty limit (a minimum of 10 hours of rest is a must after 14 hours duty)
11-hour driving limit (minimum 10 hours rest is essential after 11 driving hours during a full day i.e. 24 hours)

Drivers often feel pressed to deliver the loads as quickly as possible either for their own financial benefit or to appease the company. Driver fatigue can easily occur and it is almost a given for those drivers who do not follow the safety regulations. It is therefore very important that the truck accident law firm you select has vast experience in investigating driver fatigue as well as violations of the federal regulations. Your lawyer will obtain the driving data from the semi truck driver's cell phone.

Important evidence after a semi truck collision can include: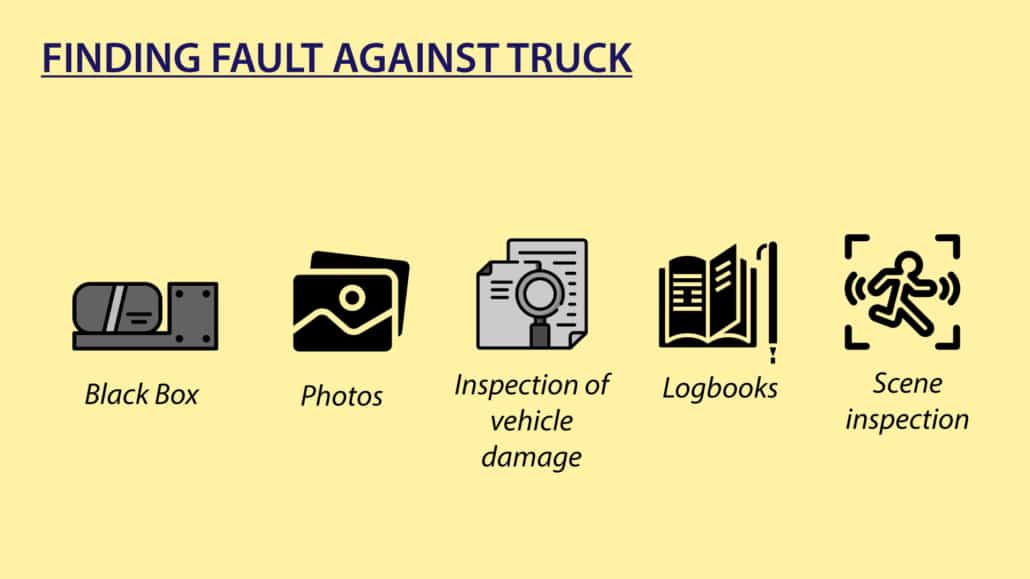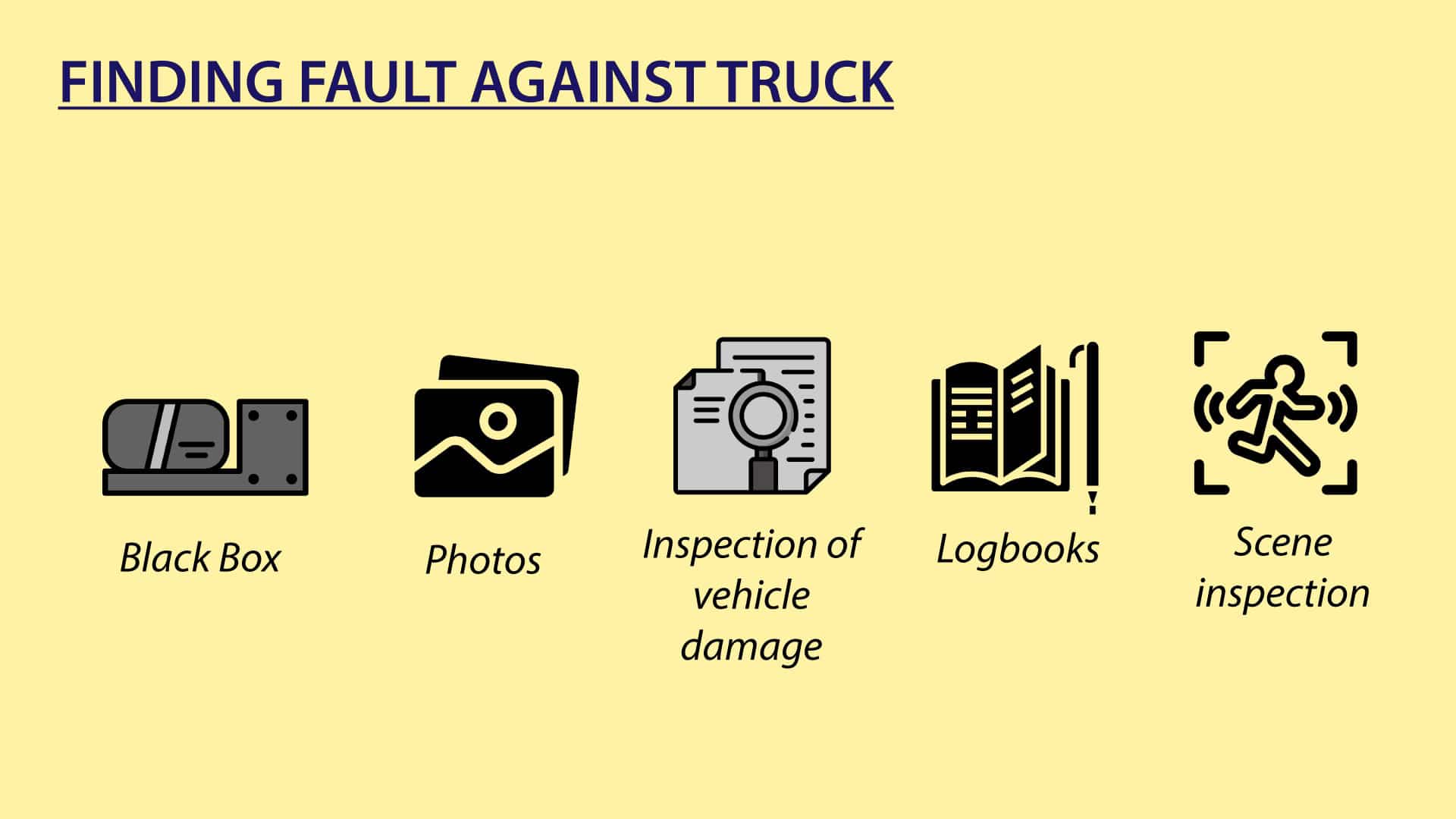 Semi truck driver logbooks
Semi truck computer event data
Inspection of the accident scene and the tractor-trailer
Documents showing the 18 wheeler load and prior deliveries
Record about commercial truck driver's Training

Many 18-wheeler drivers and commercial truck operators simply have a commercial driver's license and they are let loose on the highways by the trucking companies without proper training. We believe that having only a Commercial Truck Driver License is insufficient safety training for a driver operating a truck that can weigh as high as 80,000 pounds. The semi truck companies have a duty to ensure that their commercial truck  drivers are sufficiently trained so they could safely operate the tractor trailer. Ongoing safety training and refresher courses for the commercial truck drivers must be a part of all motor carrier (trucking companies) operations.
Tractor Trailer Accident Attorneys Know About Dangerous Equipment on Trucks
Tractor trailers trucks are  regulated in manufacturing, maintenance, and repairs for safety. Federal laws regulate commercial trucks air brake systems. If a defect in the 18 wheeler or any mechanical parts of the semi truck caused an accident, the injured victim may have a claim against the truck supplier, repairers, or manufacturing company under the theory "product liability." The common car accident attorneys will not have knowledge about product defects liability.
Trucking companies also must make sure that the semi trucks they run on the highways are in proper operating condition.  Commercial truck drivers must not only inspect their tractor-trailers every day but they must also ensure that the loads that they are to carry are properly secured.


The federal regulations require commercial truck drivers to inspect their semi trucks before starting any trip. The drivers must inspect:
Air Lines and Compressor
Brakes
Lights
Steering
Fuel system
Safety equipment
18 wheeler truck wheels and tires
Axles
Coupling devices


When a trip ends the vehicle driver must re-examine each item listed on their daily vehicle inspection reports. The reports must carry all dangerous conditions or defects and they must be sent to the motor carrier before taking the truck on the next trip.
Semi truck inspection after a serious trucking accident is an important part of a claim for damages. Our tractor trailer accident lawyers are experience in finding evidence concerning irregularities by 18 wheeler truck drivers.