Updated on May 5th, 2022
Pedestrians are some of the most vulnerable parties in accidents because they do not have the frame of the vehicle to protect them from injury. A pedestrian hit by a car can sustain severe injuries, even if the vehicle is traveling at low speeds. If you or someone you love were injured, please contact our pedestrian injury attorney for a free consultation.
---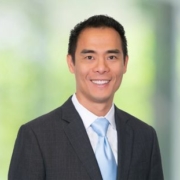 Brad Nakase, Attorney
---
What Is a Pedestrian Accident Lawyer?
A pedestrian accident lawyer has experience working with pedestrians who are injured in collisions. They have seen many accident victims when they are battling life-changing injuries in hospital and are compassionate and caring during a difficult time. When looking for a pedestrian accident lawyer, you want to pick someone who is aggressive in the court room but is willing to work with you and understand the difficulties you may face. A pedestrian accident lawyer worth their salt will conduct meetings over the phone or video call when it works best for you and will even stop by your hospital room to get paperwork signed while you are bed-bound.
What Does a Pedestrian Accident Lawyer Do?
A pedestrian accident lawyer pulls double duty as an attorney and an advocate. Because of their experience working with those involved in pedestrian accidents, their connection and resources are just as invaluable as their legal advice. A pedestrian accident lawyer can help with the following things:
Initial case evaluation to determine if you have a strong case and what compensation you can claim
Answering any questions you have about the legal process
Investigating the accident and circumstances leading up to the accident to start collecting evidence for your case
Creating a legal strategy
Drafting and filing the complaint and legal summons
Pre-trial motions
Gathering evidence
Organizing expert witnesses
Representing you in all court hearings and legal proceedings
Negotiating settlements
Advocating for you during the trial and presenting your case
Timely communication to advise you of any progress and answer any questions you may have
Expert legal advice regarding settlement offers and legal strategy
Drafting and representing you during appeals if they occur
A pedestrian accident lawyer can handle the majority of the workload for you, leaving you to focus on your recovery. They will provide you with timely updates and communicate with you in a way that works best for you.

Should I Call a Pedestrian Accident Lawyer?
Most pedestrian accident lawyers provide free consultations to evaluate potential new cases. So, if you are ever unsure whether to call a pedestrian accident lawyer or not, call them; you have nothing to lose.
The first thing a pedestrian accident lawyer will look for when evaluating a case is who is at fault. In personal injury law, a party needs to have caused injury to another through their actions. So, your pedestrian accident lawyer will look for either intention or negligence. Negligence is most common in car accidents and pedestrian accidents.
Why Is Negligence So Important to a Pedestrian Accident Lawyer?
Without negligence or some degree of fault, you simply do not have a case. This is why a pedestrian accident lawyer will determine negligence first and foremost. Once they have can see that the other party was negligent, then they can start looking at the strength of your case and calculating the compensation you may be due.
In personal injury law, negligence means that the other party failed to act with due care. The court will determine how a reasonable person would act in the same situation and weigh up the actions of all the parties in comparison.
Examples of negligence in a pedestrian accident case are:
Speeding and therefore failing to stop in time for a pedestrian
Aggressive driving or road rage
Waving a pedestrian across the road when the pedestrian does not have the right of way
Hitting a pedestrian in a crosswalk when the pedestrian has the right of way
Failing to see a pedestrian on the sidewalk or on the side of the road
Hitting a pedestrian who is getting on or off a bus
An improperly secured or unsecured load that hits a pedestrian
Making a right turn across a pedestrian crosswalk while pedestrians are using it
Your pedestrian accident lawyer will consider the actions of everyone involved as there may be multiple negligent parties in the accident. In some cases, you may have been negligent as well as the driver that hit you. If that is the case, your pedestrian accident lawyer will look at the comparative negligence to determine what percentage of fault each party has in the accident. In California, an accident victim can still recover damages if they were partially to blame for the accident.

What Damages Can I Claim?
Your pedestrian accident lawyer will ask you to bring documents to your consultation, like medical bills and invoices for any property that was damaged or lost in the accident. The pedestrian accident lawyer will review all these and give you a ballpark figure for how much you may be able to recover. This includes things like:
Medical bills
Ongoing or future costs of medical treatment and rehabilitation
Pain and suffering
Lost wages during recovery
Loss of earning potential if you can no longer work your job
Emotional distress
Loss of enjoyment of life if you receive life-changing injuries
In California and other comparative fault states, your pedestrian accident lawyer may then deduct a percentage of your fault in order to reflect your negligence. The quote the pedestrian accident lawyer gives you is a ballpark figure based on the case as they see it. During the process, your pedestrian accident lawyer may adjust that figure based on evidence uncovered in their investigation and the legal strategy of the other parties. Your pedestrian accident lawyer will advise you when other parties propose settlements if they believe it is a good deal or if you would receive a better figure if you pursued trial.