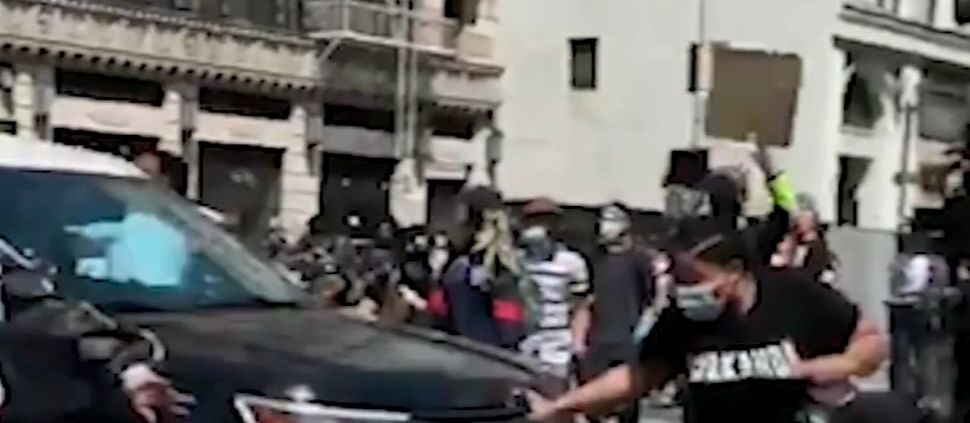 One of the two protesters who were struck by a police car in downtown Los Angeles last Sunday said today she's filing a claim against the city administration and the LAPD.
The incident came near Pershing Square and was caught on camera. The video, which went viral, shows an LAPD vehicle hit two protesters before backing up and speeding away.
Brooke Fortson, one of the victims, is now speaking up and says her attorney is preparing a claim against the city and police authorities.
"Obviously it happened so fast, but I got knocked down and the adrenaline – I bounced back up," the women said about the accident.
Fortson calls herself a community activist and she can be seen in the video wearing a black mask.
Talking about the incident, she said she was taking a picture of the fellow demonstrators heading back across the alley when the police SUV driver accelerated and hit her, throwing her a dozen feet away.
"It's still surreal, even seeing it happen to myself," she said. "It's surreal."
Fortson said she was still suffering neck and back pain, while her attorney said they have yet to learn the name of the cop behind the wheel.
The LAPD said in a tweet that it is investigating the incident.
The L.A. City Attorney's Office said it was reviewing the claim, refusing to offer further comment.
https://nakaselawfirm.com/wp-content/uploads/2020/06/Woman-Protestor-Struck-by-Police-SUV-to-File-Claim.jpg
545
970
California
https://nakaselawfirm.com/wp-content/uploads/2019/10/Logo-Nakase-oranage-300x138.png
California
2020-06-29 19:21:12
2020-06-29 19:21:13
LA Protester Struck by Police Car to File Claim