A Hit-and-Run Driver Kills Bicyclist in Downtown Los Angeles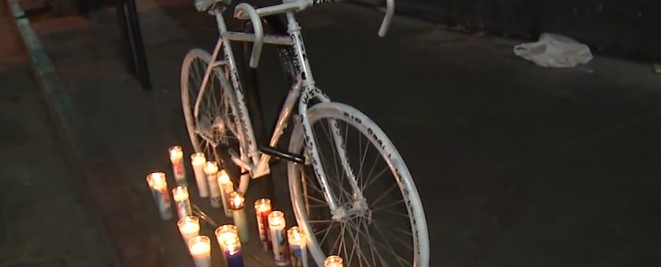 January 16, 2021

Downtown L.A. | Los Angeles County

A hit-and-run driver struck a bicyclist in Downtown L.A., leaving the man behind to die. It was Saturday morning at Wilshire Boulevard's 900 block, when the suspect approached a newspaper delivery truck. The delivery man had left the keys in the car and the suspect took the truck and drove off. The delivery man attempted to stop the suspect by jumping onto the bed of the truck, but hopped off a few blocks away, suffering some minor injuries.

According to Los Angeles Police Department, witnesses saw the truck speeding on 7th Street and driving in opposite lanes of the road. In a surveillance video, the suspect was seen behind the wheel as they struck a bicyclist from behind.

When struck, the bicyclist landed on the hood of the truck, and the suspect continued moving forward. After 100 feet past Olive street, the bicyclist was launched off the hood and onto the street. According to video footage, the truck crashed into two other vehicles right after. The suspect got out of the damaged truck and fled the scene.

The victim of the hit-and-run incident was pronounced dead at the scene, he was identified as Branden Finley, a 46-year-old father of two. Branden was riding his bike that morning to meet friends when the crash occurred,

The hit-and-run suspect is believed to be homeless; the suspect was wearing black pants and was barefoot. Originally, the suspect had changed out of his blue sweatshirt that was seen in the surveillance footage. The suspect may now be wearing a white sweater.

LAPD continues their search for the suspect and is offering a $50,000 reward for any information leading to his arrest. If you have any information, please contact detectives at (213) 833-3713.

AVVO Clients' Choice Award 2019
Justia Highest Rating Honor 10
AVVO Highest Rated Lawyer 10
Business Trial Lawyer since 2005. Proven Results.


Free Consultation